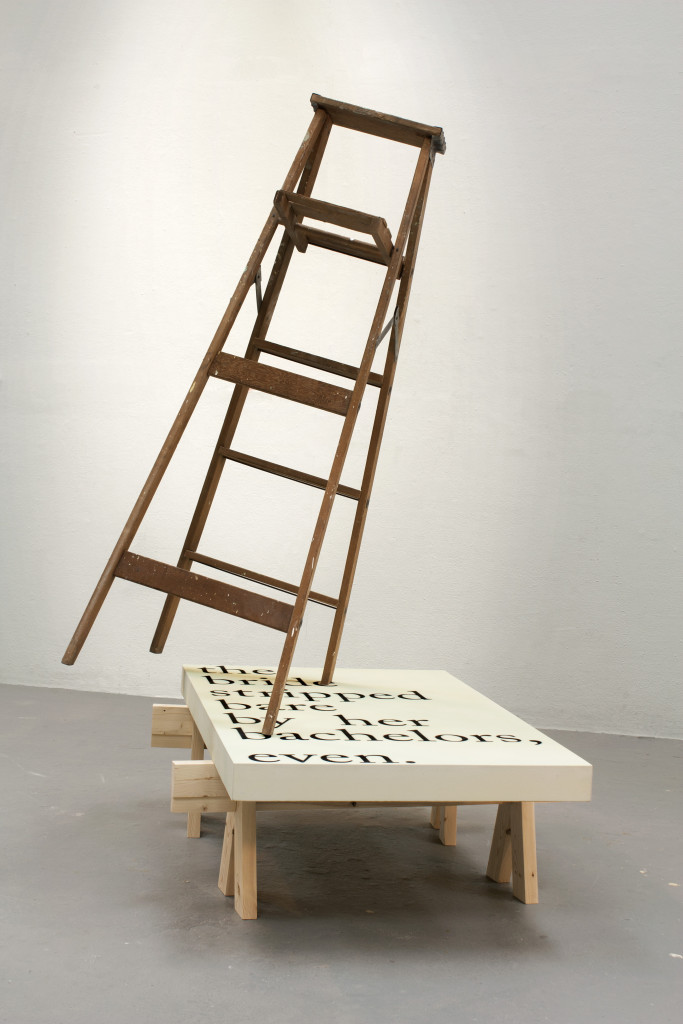 bundle them, obscure them, put them in relation to one another
I'll start with a consideration of my mind as a dumping ground for information from so many sources constantly. They pile it on, and I'm left to sift it, sort it, push it into corners, ignore it or squeeze it into one cohesive form. I'll draw ideas, objects and forms from seemingly unrelated places, bundle them, obscure them, put them into relation of one- another and compare them to a clean, endless and empty black.
I'll nd pallets and PVC, umbrellas, black panels, poetry, probiotics, horse heads, cornices, absences, guard rails, synesthesia, newscasters, satellites, ceramic cats, 50-gallon drums, bannisters, glossy bundles of garbage, fresh sneaks, sump pumps and lamps and pans and plastics and fuckin' smart bombs and radio shows, vapors, owers, books, thugs, mugs, better apartments than mine, long walks, an app that will make sausages appear from thin air, Kierkegaard, disposals, things that have never been seen before, things that have been seen before, coats from dead guys, other people's art, drywall and couches, ink spilled on expensive desks and bumper cars and paper masks and dada, sulfur, nihilism, salads and sponges and saucers, dust, stuffed bears and beer and physics, hair gel, swan dives, dry heat and canned meat, and I'm going to force them together in the most appropriate of ways.
Jim Leach was born in Cleveland, Ohio. He received a BFA from Kent State University in 2011, and an MFA from the Rinehart School of Sculpture at the Maryland Institute College of Art where he was the recipient of the 2012-14 Rinehart Fellowship. His work has been in various solo and group exhibitions, including shows at The Gowanus Loft in Brooklyn, New York; Vox Populi in Philadelphia, Pennsylvania; Legation, A Gallery and The Galleries at Cleveland State University in Cleveland, Ohio; and Maryland Art Place and Creative Alliance in Baltimore, Maryland.
Leach has been reviewed in Cleveland's Scene Magazine and Baltimore's BmoreArt, included in exhibition catalogs published by Cleveland State University and the Maryland Institute College of Art, and was selected by Maryland Art Place for 30: Thirty Creative Minds Under 30. Jim Leach lives and works in Baltimore, Maryland.