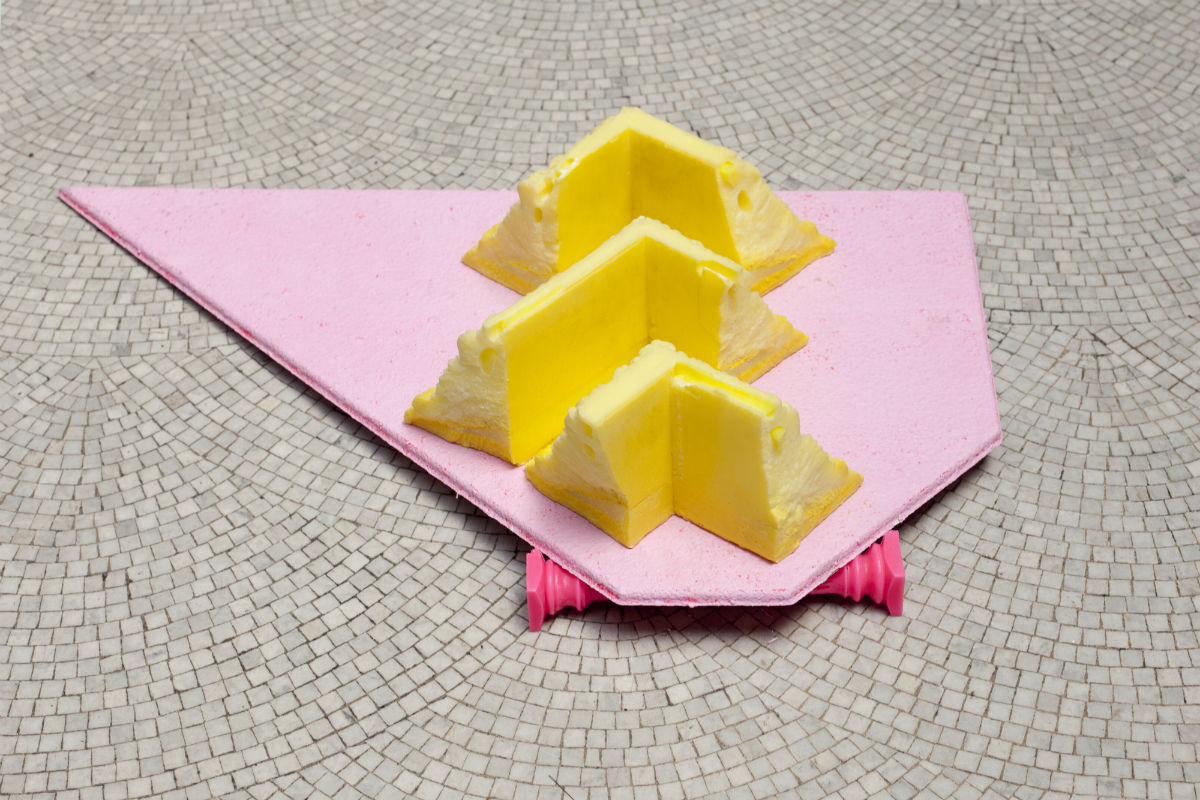 Occupying a purgatorial space, my visual and material practice is a direct manifestation of a halfway subjectivity. This ambivalent and contradictory state relates to an attachment to an historical culture while not being presently in contact and living in a constant melange of languages. With kitschy depictions of solemn matters, the work explores structures, beliefs and artifacts with regards to the mutative effects of time, dislocation, and translation. My practice is born from the place where language (one/both/in-between) fails completely. The representations I create are situated amid language, cliché and idiosyncrasy, believability and disillusionment, sincerity and irreverence.
Furthermore, wax acts as a catalyst for fluidity, neither solid or liquid, structurally sound but weak. Visually, the wax pieces in saturated hue are used to mock the less-is-more Miesian aesthetic that opens the door for cheaper building material, like OSB or stucco. During the process of casting objects in wax, one material substitutes another, simulating an object by a more laborious process that which made the original. The time spent with the work, the repetition, and the commitment is not only useless but proves once again that the structure is flawed.
Originally from Québec City, Magali Hébert-Huot is currently residing in Baltimore MD. After Studying at Campus Notre-Dame-de-Foy, she completed her BFA at Emily Carr University of Art and Design in 2012 and received her MFA at Maryland Institute College of Art – Rinehart School of Sculpture in 2015. She has a rigorous studio practice, investigating and synthesizing her interests in sculpture, printmaking, architecture and history. She has exhibited work in 'Fresh Paint / New Construction' at Art Mûr Gallery in Montreal, and has recently shown at (e)merge Art Fair in DC, Open Space and Space Camp in Baltimore, as well as various exhibitions in Philadelphia and Québec City. She is the 2015 recipient of the International Sculpture Center Outstanding Student Achievement in Contemporary Sculpture Award.